The Professional Informatics Association in Lebanon (PCA) held its annual dinner at Le Royal Hotel – Dbayeh, in the presence of Minister of Administrative Development Najla Riachi Asaker, Minister of Communications Johnny Corm, MP Elias Hankash, MP Razi Hajj, and a group from the information and communications sector.
During the ceremony, the association honored the Director General of the Ministry of Economy and Trade, Dr. Muhammad Abu Haidar, lawyer Charbel Shbeir, and Dr. Nadim Mansouri with plaques of appreciation. The association's president, Mr. Camille Moukarzel, also awarded appreciation prizes to several start-up companies.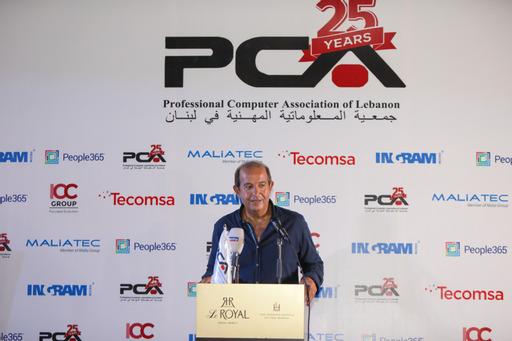 Moukarzel gave a speech on the occasion, in which he enumerated the projects that have been completed during the past three years, and the future projects of the association, including preparing for a workshop in Dubai under the auspices of the Lebanese Embassy in the United Arab Emirates, on October 12, and participating in a Lebanese pavilion in the MENA ICT Forum to be held in the Dead Sea in Jordan.
In conclusion, a cake was cut in an atmosphere of intimacy and joy among the audience.